Exploring the pathways ahead.
Welcome to the first preview of MutantVerse. We are following on our roadmap to continue to build our world of fantasy. Today, we take a moment to update you all on what's happening behind the scenes, the estimated timelines for the proposed products and the technical stacks involved for the builders!
MutantVerse Dashboard
We began by creating the world with dNAs! However, this is just the first step to the world that embraces from mere numbers. We are happy to announce that the conceptualisation of the dashboard is close to completion. And as we continue to build the world, we will be adding more features to the dashboard. Further, we will take you on the detailed ride with each page of the dashboard, the purpose of each page, and the technical stack involved.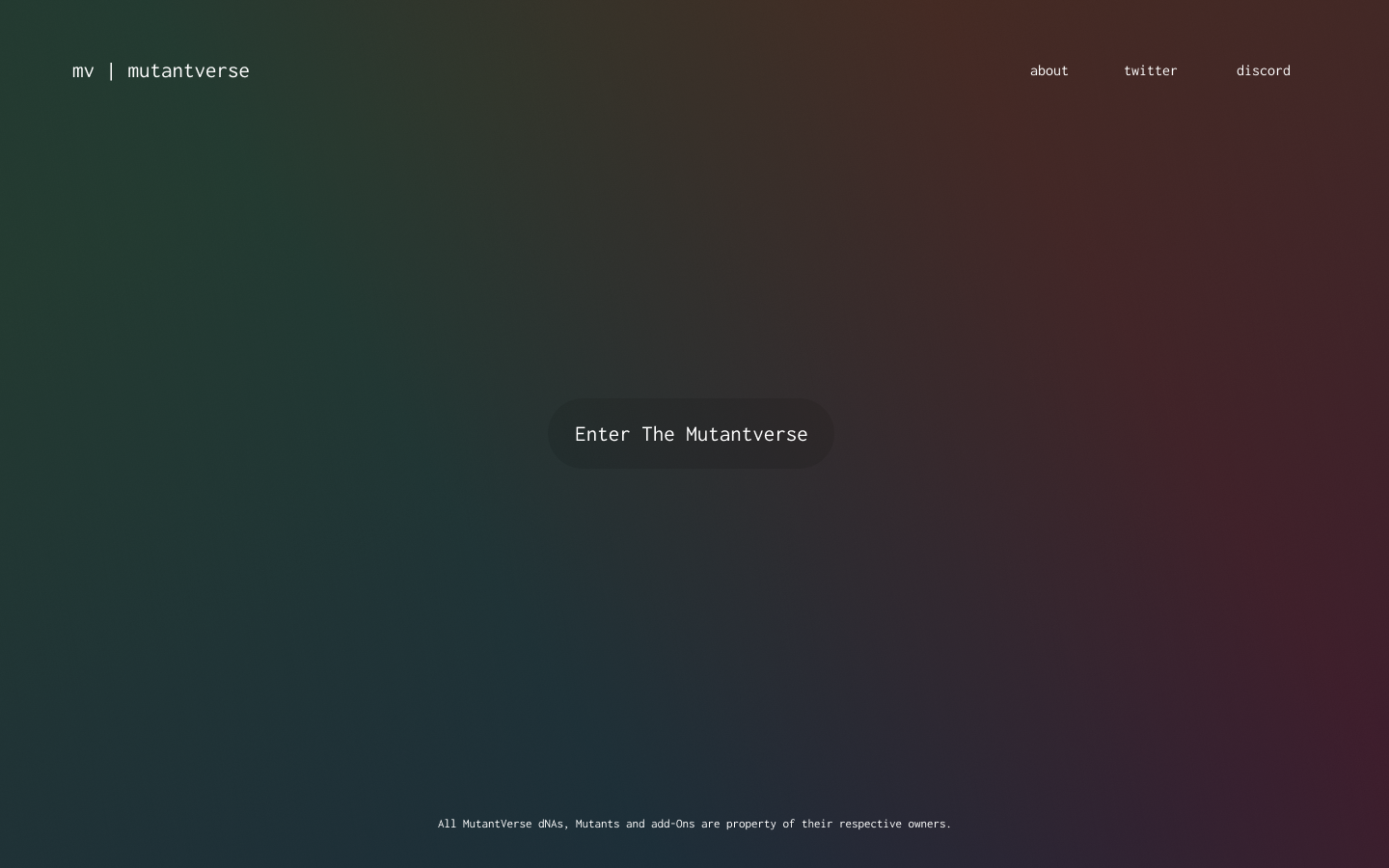 There has been a long over-due debate on why the Web3 UI does not respond well. The truth is – Web3 is currently undergoing utility–exploration mode. The phase where you try to find the "possibilities" rather than the decorations of those possibilities. However, at MutantVerse, we deeply care about how users interact with the UI. Every step, every button, every screen – needs to be intuitive and easy to use.
This is one of our primary goals as a part of this Web3 environment.
The landing page of our dashboard allows users to enter the MutantVerse by connecting with their respective dNA holding wallets. We have decided to go ahead with Metamask, and all WalletConnect supported wallets such as Rainbow, Trust Wallet, Argent and more.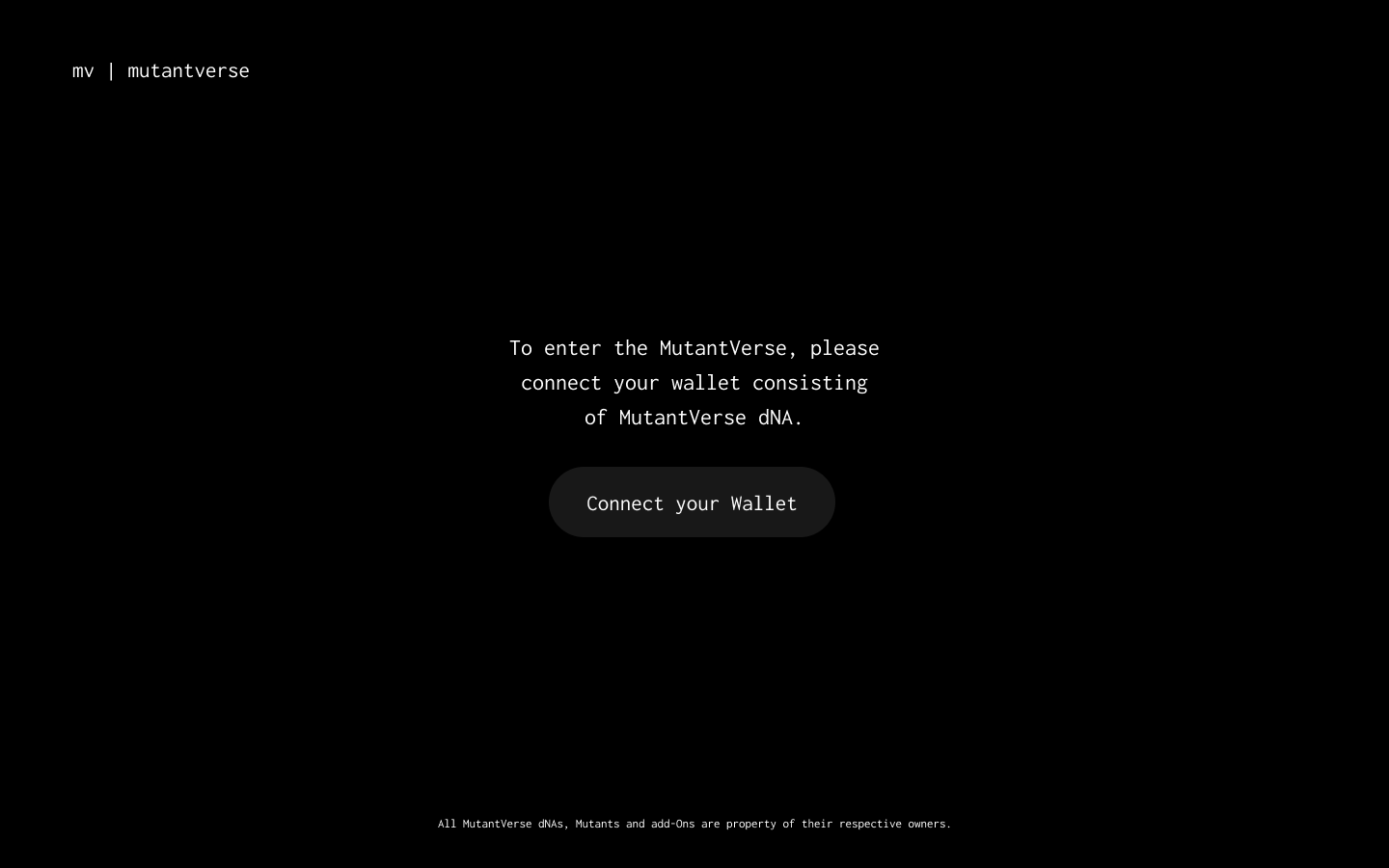 We will be using Moralis to integrate and support our infrastructural needs! This will also allow developers to build easier serverless functions on their respective dApps. The access has been limited to the owners of dNA to make sure the dashboard is exclusive and only available for the members of the MV community.
Although not immediately on the pipeline, but we plan to integrate much more hypermedia in the entire on-boarding of the dashboard.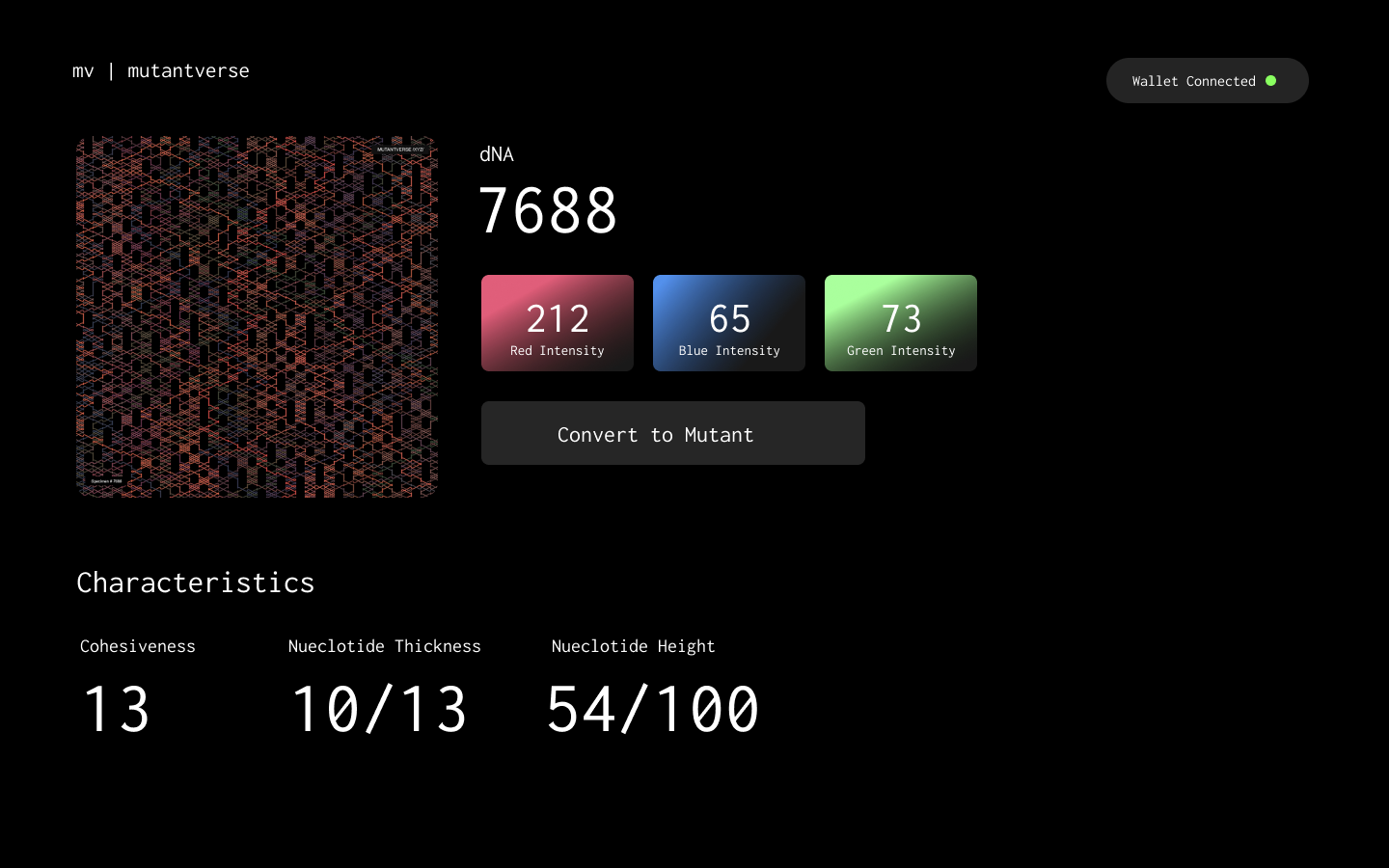 As mentioned above, the dashboard we are creating sticks to our goals of creating a dApp that allows users an experience they haven't yet felt in this space. A product that takes care of edge cases, of various interactions and allows spending time without increasing the cognitive load.
Your MutantVerse dashboard, among other things, will allow you to manage your unMutated dNAs, checkout various aspects about them such as Various intensities that resulted in their creations, the characteristics that allow them to visualise in certain ways, and various other attributes attached to their particular dNA.
Each singular dNA page will allow you to interact directly with our Mutant Creation smart contract when it comes down the line.
About the infrastructure, we will be using NextJS to build our front-end. We will be using the Ethereum blockchain to store the information of our Mutants, just like our dNAs and Pinata to manage IPFS gateways. We will be using Tailwind for frontend styling and any other metadata, (if stored), will be stored using MongoDB.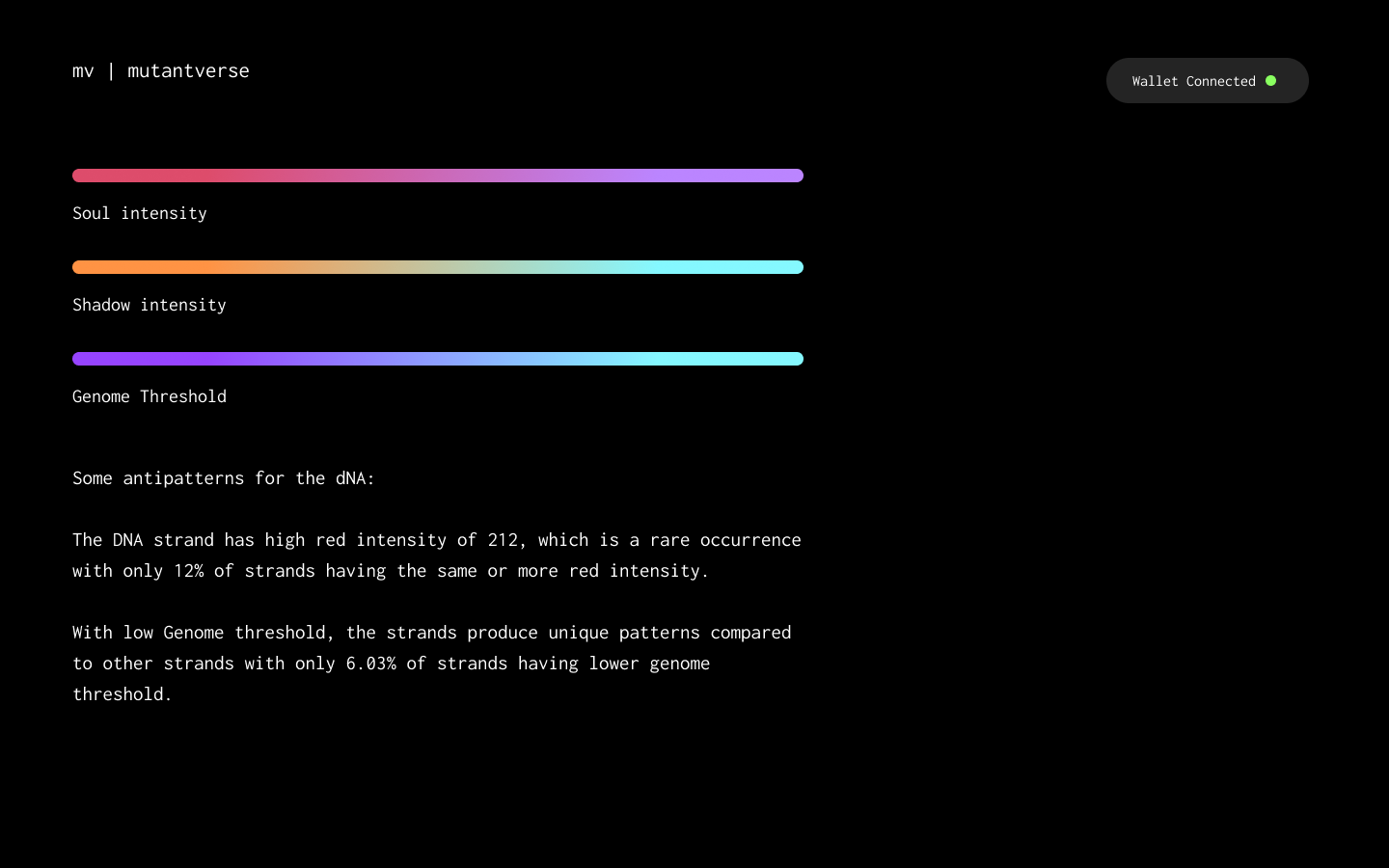 If it does not please the eyes, should we even do it?
The boosters of your dNAs will be displayed using various graphs. Allowing you to better understand them.
We are creating a specific section called anti-patterns – This will allow you to see how your dNAs are different from others. The percentages of rarities, specific trait-level rarities and more!
Collections Dashboard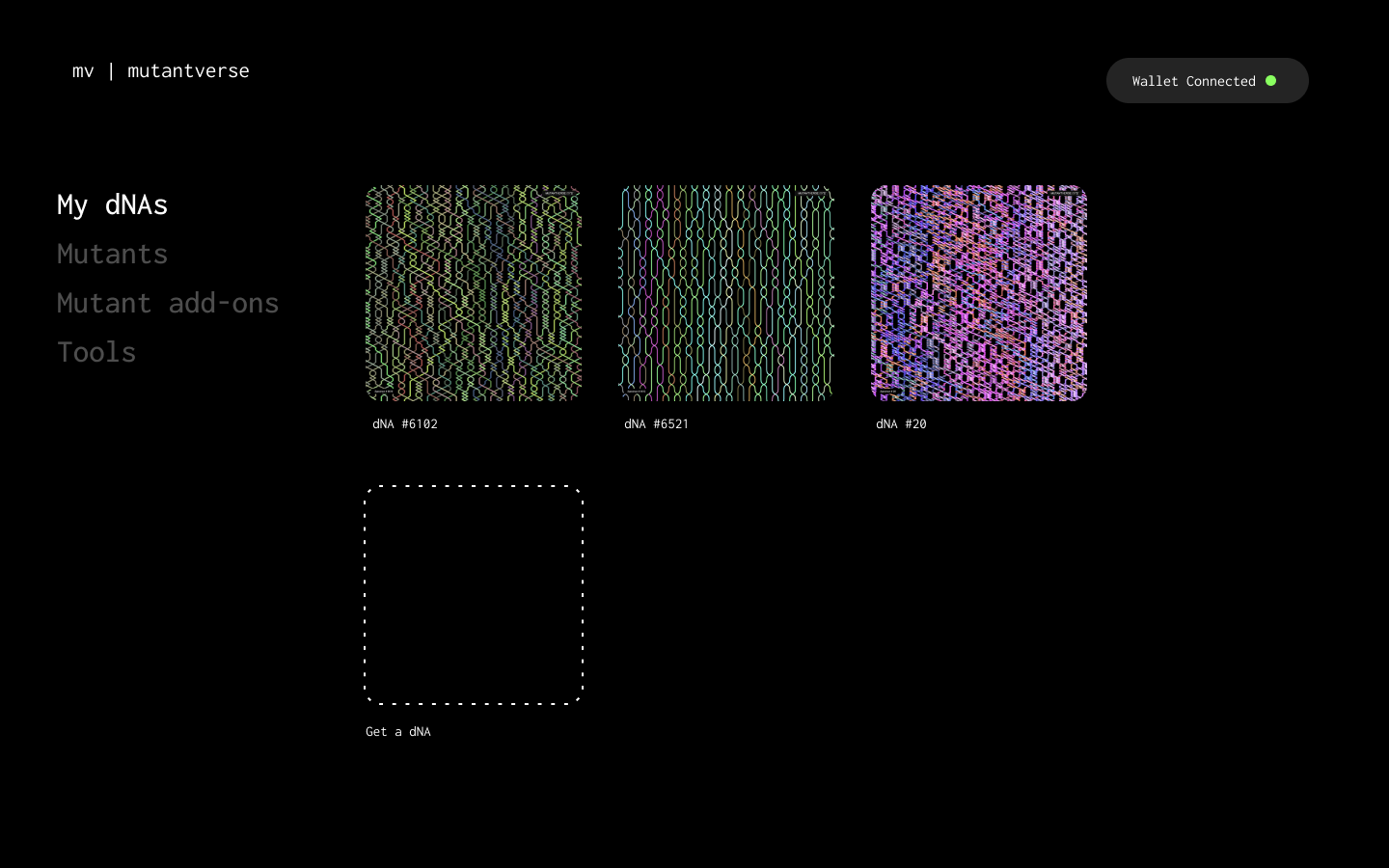 We do not want you to wander out when it comes to any MutantVerse experience. All your dNAs, their trades, and everything about them will be included in a single place.
And want more? We will be working with builders to create add-ons which will be visible right in your dashboard. Allows community to create, commoditize and implement their share of work in a collective MV experience.
Mutants Will Take Birth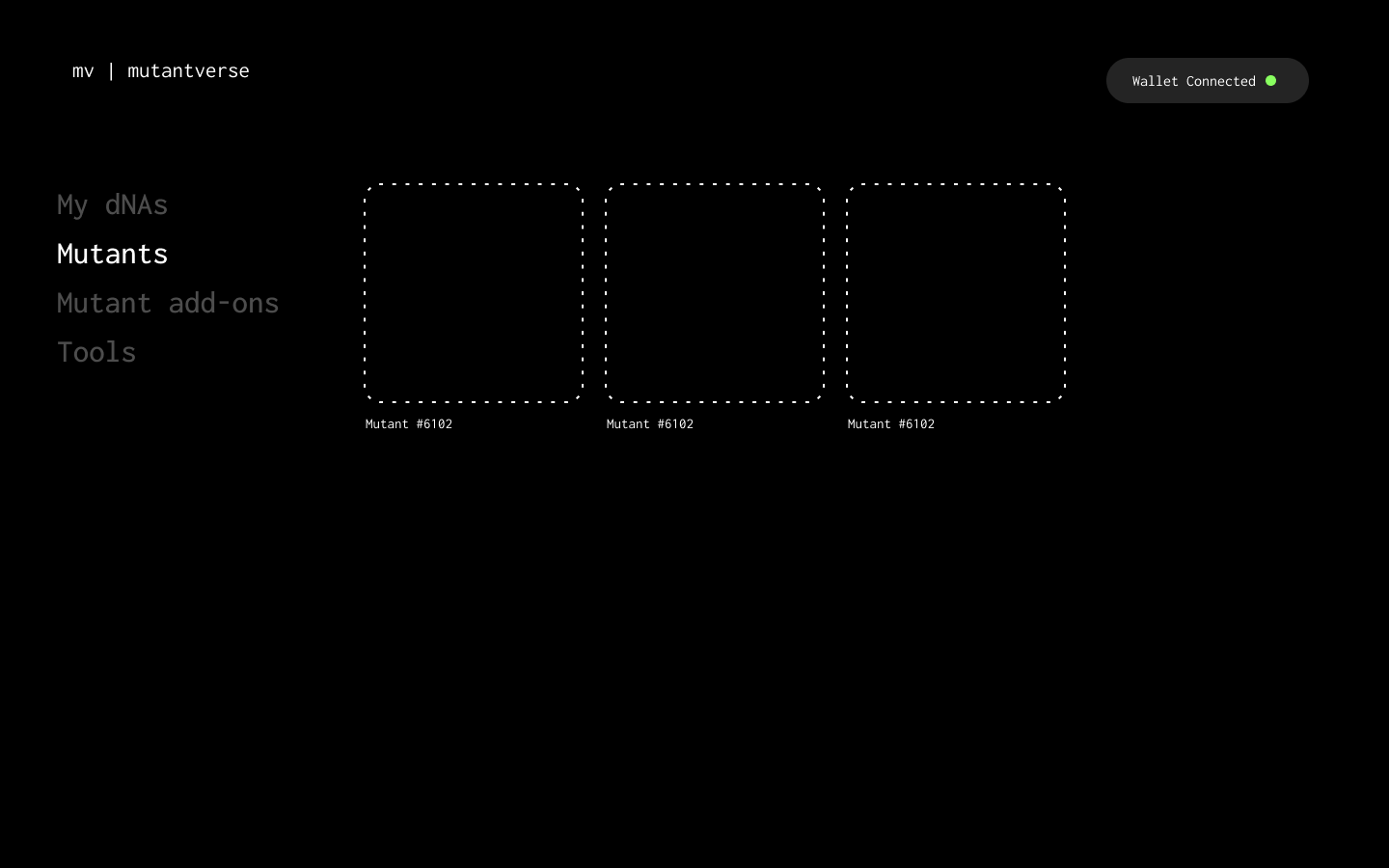 Ideation: Dedicated derivatives tool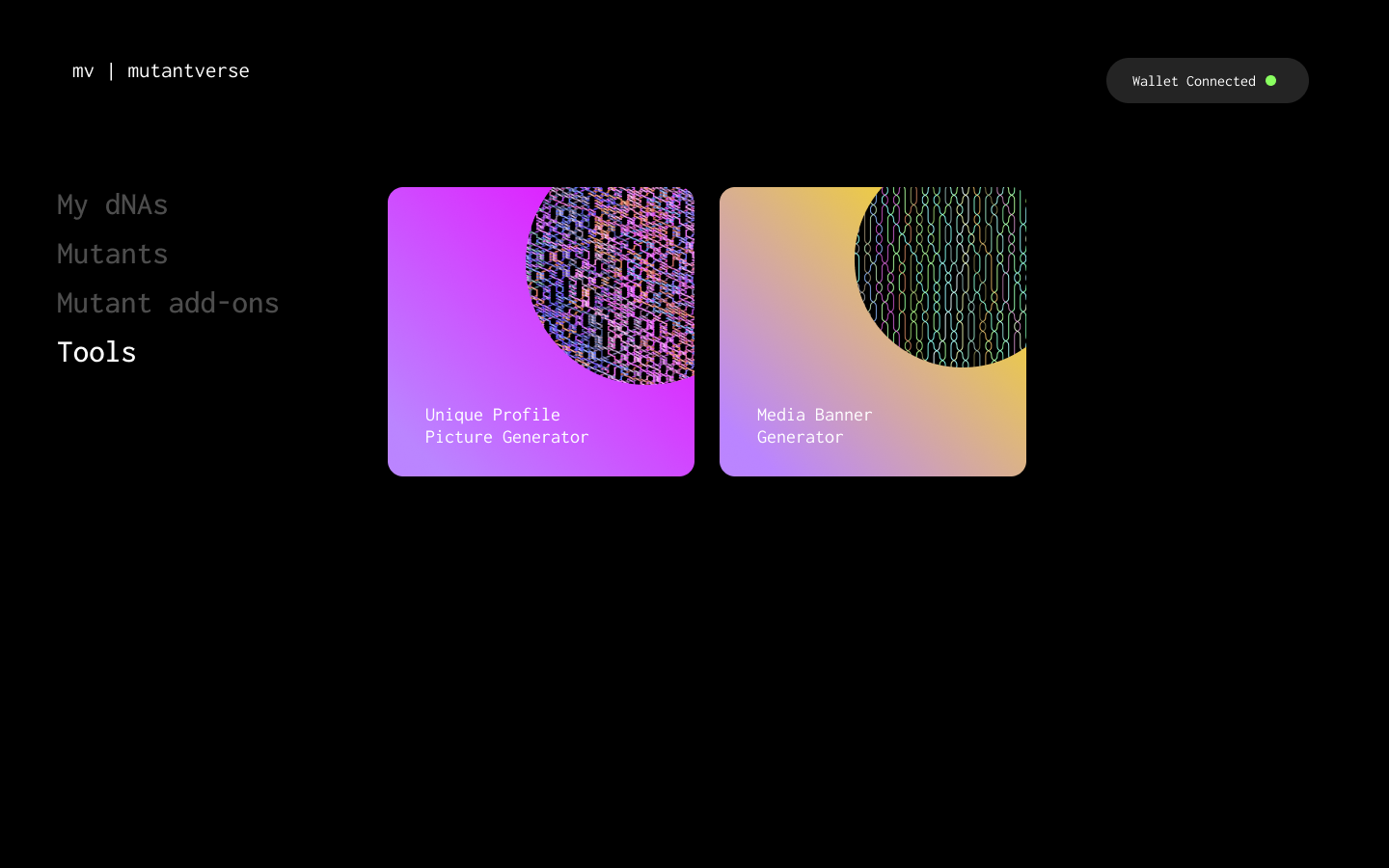 1. Unique Profile Picture Generator
To bring the community together, we are thinking of some dedicated tools for amplification. One of which is Profile Picture Generation from your Mutant DNAs in multiple forms and variants.
2. Media Banner Generator
Generate innovative banners for your multiple Social Media profiles.
In the action
It is a long road ahead! We are calling all builders to come and join us in this mission to create a fantasy world out of numbers. We are least worried about how the market is performing because we are the ones helping create it.